Alrighty, it's so hard to pick features from all of your links!!
I am going to try something new...I'll feature the top 3 highest visited links and we'll go from there :)
#2, #3 & #4 (all tied for second place!) spot was
and her adorable dining room table
REDO
!
Thanks ladies for linking up and playing along!
I love your style!
Grab yourself a button :)
This week has gone by fast and I have been busy from what i'm used to. Having 3 small kids not in school yet, we usually don't have too much going on. However, my eldest graduated from Preschool. So there has been lots of parties, get-togethers and a graduation.
So that has pre-occupied my mind. And let me tell you, I didn't think this would affect me as much as it has. My little girl is getting so big! I'm having one of those "I can't believe how fast her life has gone by!" moments. But seriously, who is this huge girl going to Kindergarden next year?!
Do you guys want to see a picture? I know you do ;)
haa haa and this is what my husband and son were doing during part of it...boys!
Congrats honey! We are so proud of you :)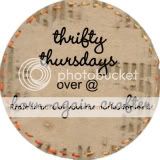 Link up any thrifty finds, redos, antiques, or just anything thrifty!
RULES:
Please grab a button and add it to the post or blog so that others can follow along too!
Link specific posts and not the main blog :)
I'll pick a few to feature who have a button or link back next week!