love you guys and your links, seriously I love seeing each and everyone of them!
it's been a hectic week as I get ready for Saturday's craft fair.
I may not have commented on your links but know that I visited every one of them!
Everyone is so thrifty here, i love it!
So sincerely thank you for visiting each week and joining me. I love getting to know you guys and what you find and make!
Ok here's a few from last week's party:
Stacey over at
Pill's Place
found this adorable vintage hoodie! That little boy is the cutest thing!
Mommy Does...
did this fun game for kids with things found around her house!
Thanks ladies again for linking up!
Remember to get featured, you must have a button or link to the party on the post or you blog!
Ladies,
I love your style!
Grab yourself a button :)
Like I mentioned before, I have been crazy busy!
Luckily this week, I was able to head to Sal's but not for pleasure.
I needed more books to rip apart to make wreaths and puff balls :)
Picture this:
I have my 3 kids with me, 5, 3 & 1. We walk in. My two eldest run over to the nice furniture and jump on the couch but then quickly find some kid books and quiet down.
My 1 year old HATES to be held when his sisters are running amuck. So he's fighting me.
there are no carts in the darn place. I have him by his stomach with my arm wrapped around him.
So I haven't been in the store for 1 minute!
As I make my way to the book section, this caught my attention:
AHH! So darling and perfect. And when I saw it, the back piece was swung face down so I only saw the cute carousel picture. So imagine my greater surprise when I saw the back too!
As I am fighting son, I inspect for a price. nothing.
Luckily it's right by the registers so I ask. The lady threw out $6.99.
SOLD.
So cute.
So I had this in one arm and my son in the other, grabbed two books, paid for my items, rounded up my girls, pleading and yelling to follow me.
Finally they did when I told them I was the line leader and they were not.
Boy that got them going.
"NO, I want to be the line leader!"
"Follow me!"
And we were out to the van and gone.
And that is why I don't (usually) go anywhere with all 3 kids.
at least this got an adorable stool out of it.
I'm linking to
THESE
parties!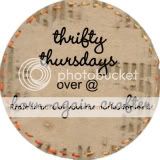 Now the fun part!
Link up any thrifty find, redo, antiques, or just anything thrifty!
Please grab a button and add it to the post or blog so that others can follow along too!
Link specific posts and not the main blog :)
I'll pick a few to feature who have a button or link back next week!