Hows your week been?
Seriously, how is everyone? I wish we could all get together and meet face to face! I need some adult interaction...
Well fun finds this week! Here are a few:
Rosey Little Things
not only found this adorable PINK iron but a TON of vintage sheets and other fun stuff. Lucky girl was near an Estate Sale!
Ruffles & Ric Rac
found this Chandelier and redid it...You have to go over there to see the redo!!
Thanks ladies for linking up and playing along!
I love your style!
Grab yourself a button :)
So remember that new thrift store I told you about last week? Well I was able to go in..with my 3 hellians helpers. That's always nice. No carts in that place either so it was a quick walk through to get a feel for price and items in the store. There was a mirror I wanted but it was out of my price range. So maybe next time without the kids!
After that, I hit Goodwill and found a few more vintage sheets :)
I picked up some workout clothes from there too.
I scored something off craigslist that I will have to show you next week because I didn't take a picture. It has something to do with those workout clothes I got. :)
I'm linking to
THESE
parties!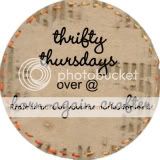 Now the fun part!
Link up any thrifty find, redo, antiques, or just anything thrifty!
Please grab a button and add it to the post or blog so that others can follow along too!
Link specific posts and not the main blog :)
I'll pick a few to feature who have a button or link back next week!