Alrighty, a few things:
FlowerBomb Designs
Giveaway ends tonight! So head over
HERE
to try your luck at winning a headband of your choice!
After my
Silhouette VS. eCraft Post
, I decided to go for the
eCraft
. I know it'll be different than what i'm used to with the Cricut but I am willing (and excited) to learn! I won't leave you in the dark either! I'll be posting tutorials on all the "how-to's"
Marni over at
Sassy Sites
is doing A Giveaway Eggstravaganza next week: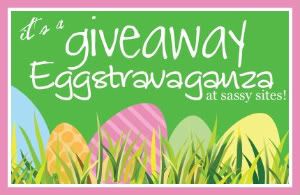 a week of giveaways starting April 17th and yours truly (me) will be part of it!
I'll be giveaway away a Spring set of Earrings:
Yep, I'm giving away 3 pairs of earrings!
They are from my new etsy shop:
Yay, I figured out a name :)
I'll be selling my fabric earrings & my book wreaths & balls there too.
You should definitely check it out!!
Today, i'll be cleaning up my craft room, which is still in chaos from the craft fair.
Then I am going to experiment with my
eCraft
.
What are you doing this weekend?